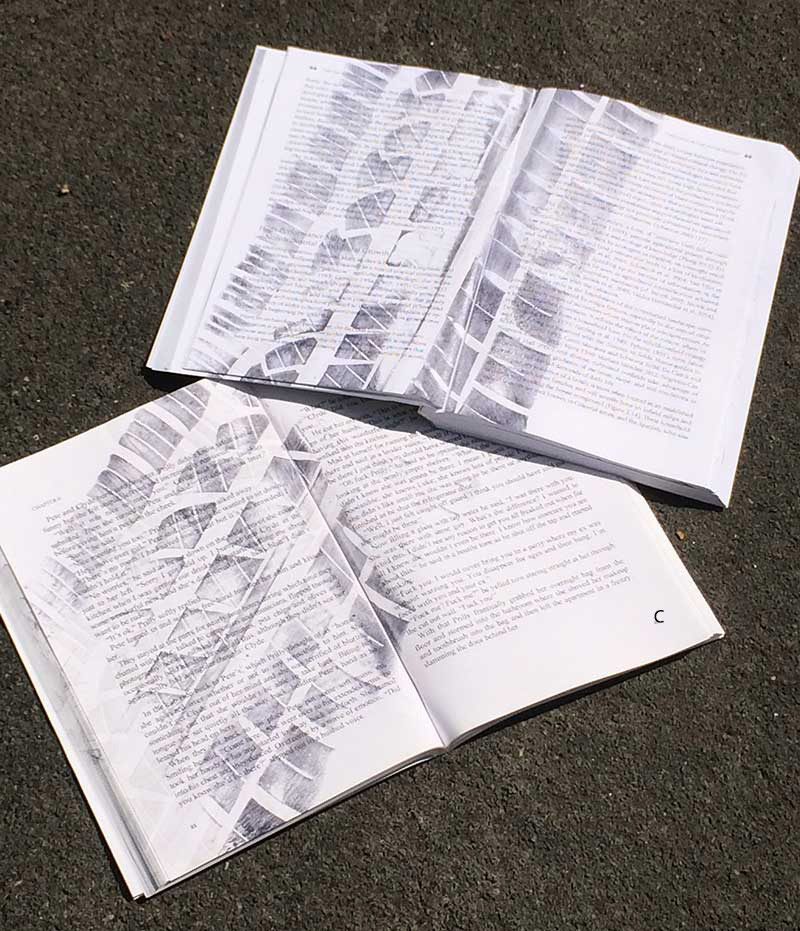 Mitch's Blog
Thursday, March 03, 2022
The scruffy cover with only the hint of a binding was on the top shelf at Fireside Books, a stretch for me and out of reach of anyone a bit shorter. But it showed promise. Flecks of black leather rained off the cover as I pulled it down. But I chose well.
Opening it carefully to avoid a blizzard of pages fluttering to the floor, I found myself looking at the first page of The Strand Magazine from February 1900. The bound volume included the monthly's issues through June of that year.
The Strand was a well known magazine, founded in 1891 in London, including both fiction and non fiction, the elaborate drawings that characterized journalism of that age, and plentiful photographs. Its founder, George Newnes, planned for it to compete with American monthlies like Harper's and Scribner's. Cost was half a farthing. Contributors included literary giants like Graham Greene, Agatha Christie, Rudyard Kipling, G.K.Chesterton, and Leo Tolstoy. After a long run with a subscribership at half a million, it folded in 1950, just before I was born. A copycat literary Strand Magazine was founded in 1998 and is still around today.
Old news, you'd think? Well I'm a sucker for this stuff, for hearing what folks thought in the moment and without the perspective of the years of history that has passed since. This goes back to age 10 when one of the few inheritances I had from my recently passed grandmother was a copy of a book about World War I, written in 1917 before anyone knew who would win.
I've haunted used book stores for these old bound magazines ever since. I seem to find Harper's often, including the volume covering the end of 1860 and the beginning of 1861, when I read monthly about the various steps of the United States dissolving and the disbelief that there might be a war between north and south. The last issue, April, was published just before the guns opened fire at Fort Sumter. I ponder that historical moment when I read the daily news coming out of Ukraine.
My prize finds include Scientific American. Century Magazine. Punch, Illustrated London News. And now The Strand.
The issue didn't disappoint. Lots of short stories set in London drawing rooms with ladies in gowns swooning in their tightly-bound stays. But not all. The brave heroine of "Within an Ace"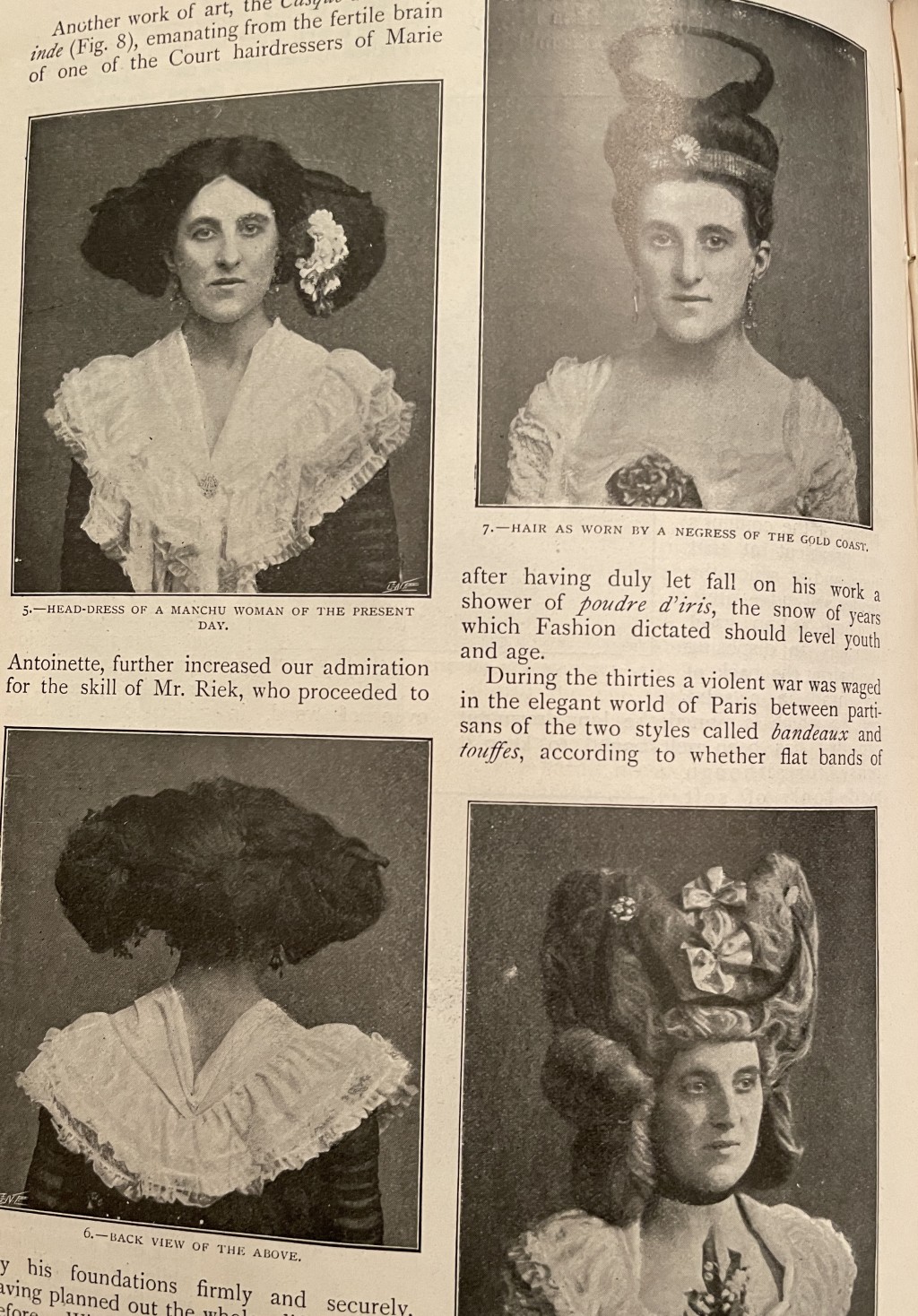 raced her horse across the Australian outback to safety, being chased by an evil miscreant impersonating her uncle. Some of the stories, like F. Anstey's "The Brass Bottle" were serialized across several issues. The non-fiction was equally interesting. Bicycle racing, mushroom hunting, Russian ice breakers in the Baltic, exotic shells, even more exotic hair styles for the fashionable 1900 (rich) woman, and lots of articles about dogs. Some things don't change. There were illustrated interviews of M. Edouard Detaille, a French painter of military subjects, Rev. Mandell Creighton, Bishop of London, and German painter Hubert Herkomer, who founded an art school on the outskirts of London.
At the end of each issue was a section of Curiosities, photos and brief descriptions of unusual items sent in by readers. A bicycle made of wooden boxes, what happens when you look through the wrong end of a telescope, a three legged duck, and a photograph of ghosts on a house veranda, formulated in the days before Photoshop.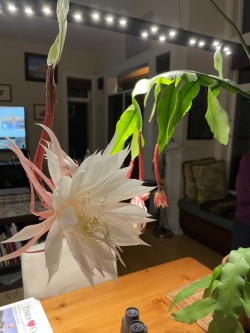 My favorite curiosity had a personal twist. Our next door neighbor Ehor grows orchids and other exotic plants. Perhaps the most exotic is the night-blooming cereus, an otherwise undistinguished cactus that blooms only once a year, always at night. By dawn of the next morning, the breathtaking flower has wilted and won't return for another year. During our visit in September, Ehor promised to call us if his sole cereus put on its colorful show, even suggesting that there might be a pounding on our door in the wee hours of some night. We were lucky, cereus did bloom but at a reasonable 10 pm and we spent a good while admiring it over a glass of zinfandel before retiring to our home. Sure enough, February 1900 contained a photo of a blooming Sirius (sic) sent in by Mr. G.M.N. Ramsay of Drumore, Blairgowrie. A curiosity for sure.
Numerous articles were associated with the British war of the moment against the South African Boers. One interviewed ship captains carrying companies of Tommies to the Cape. Another described the construction of the world's largest cannon, the Long Tom, in Creusot. Military carrier pigeons, regimental colors, training sailors to shoot weapons, cavalry horses that made phenomenal leaps.
But what caught my eye was the June article on the "The Rontgen Rays in Warfare." Wilhelm Rontgen was a German physicist who, in 1895, invented the technique of taking photographs through human flesh that could show bones and other hard substances, like bullet shells embedded in a soldier's body. Like most major discoveries in our technologically driven centuries, it was first used by the military. A hundred years later, we call it by a different name—x rays. The article in The Strand uses both designations. Rontgen's discovery did not go unnoticed. He was given the first Nobel Prize for Physics awarded in 1901 and has element #111 named after him.
The article describes the uses of the Rontgen Ray by British surgeons to find and help with the extraction of bullets in British soldiers. The article is illustrated with real photos from the limbs of everyone between an Indian soldier serving the British in Sudan and the famed General Wodehouse, who took a ball while fighting Pashtun tribesmen in revolt. Here was a brand new technology, thrown into battle to help save lives, at least of the side that had the technology.
The technology challenges of 1900 were even more stark than today. We can expect to plug in an electrical device almost anywhere, except maybe in California during a summer windstorm. But British surgeon tents in Sudan or the Khyber Pass or Zululand had no access to electricity. London only got electrified in the 1880s, Cape Town in 1895. To have electricity to power an x-ray machine, Tommies were ordered onto a b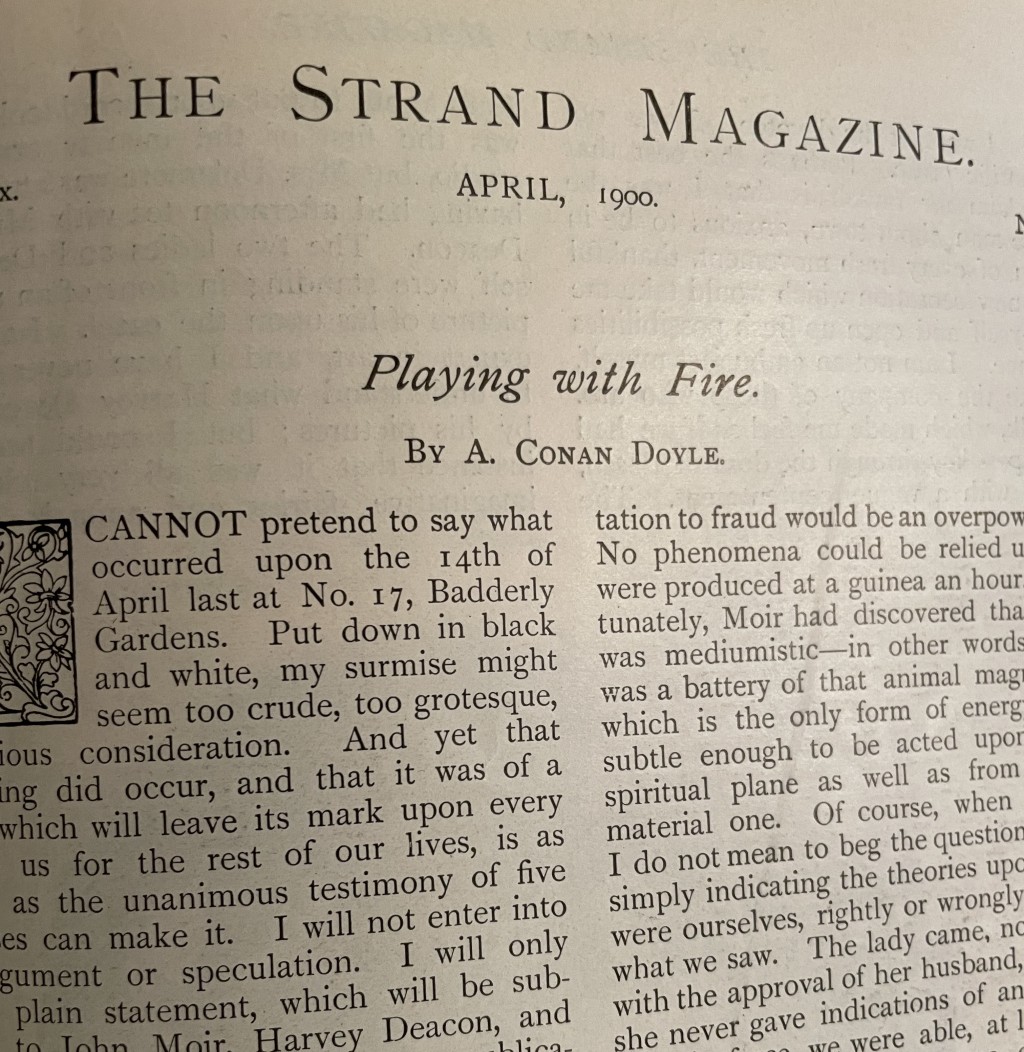 icycle and told to pedal fast to charge the bank of batteries needed to run the machine.
But the real claim to fame of The Strand was the popularization of a character known worldwide for the past century. A struggling writer named Arthur Conan Doyle had his first major successes with a fictional detective named Holmes in the pages of this magazine. And, sure enough, the April 1900 issues opens with "Playing With Fire" by A. Conan Doyle. Not a Holmes story, but a murder mystery tied to a séance. The occult was Doyle's other major interest. That short story is next on my reading list.
Between the Rontgen Rays, the murder mysteries, and the exotica in the Curiosities section, it's clear that I won't need Netflix for quite a while.
(c) Scholarly Roadside Service
Back to Scholarly Roadkill Blog
---