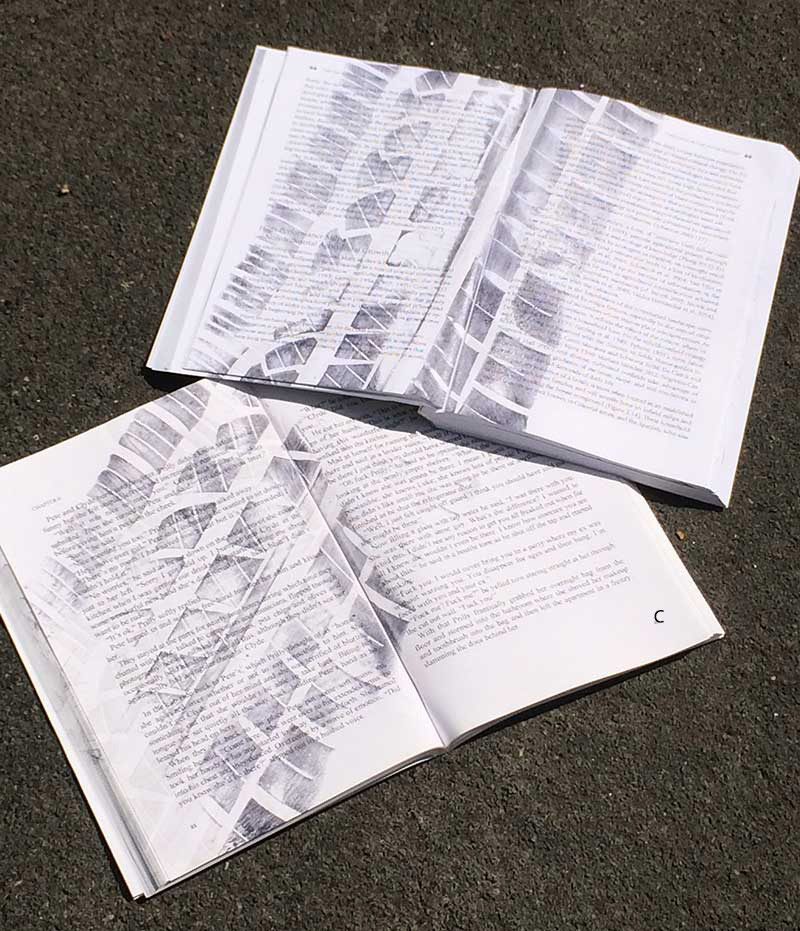 Mitch's Blog
Tuesday, January 07, 2020
For all the years I've performed as a dancer, I only ever acted in a stage play once. It was a lark in my last year of college with all my graduation requirements well in hand.
The play was the only comedy written by Swedish playwright August Strindberg, a one-act called The First Warning. For Strindberg, "comedy" only meant that none of the characters committed suicide. I was the father in the play, being volleyed back and forth between his boring wife and a precocious teen who boards with them. Climax of the play is when his wife loses a tooth. He finally realizes that he is aging and that the hot teenybopper was a less appropriate partner than the one he had.
I never did master a proper stage kiss with either of them.
At 68, I should have seen my "first warnings," but they have crept imperceptibly into my life. Those words or names at the tip of my tongue that never seem to get past my lips. My sense of balance is slightly off, like I have already had a couple of drinks when I roll out of bed every day. And, most crushing of all, my unerring sense of direction has vanished to some place where I can't find it, even with the help of Google Maps. But I can still roll off most sentences, walk down most staircases, and arrive at most destinations without difficulty, so the incremental warning signs have been deliberately ignored.
The real shocker of aging comes when you spend lots of time with people a generation younger and see that the youthful "you" no longer exists. It was a bucket of bracing cold water, even in the heat and humidity of Costa Rica, one that left me gasping. The comparison group consisted of my kids Josh and Elena and their partners, all hovering around 30 years old, less than half my age.
We had traveled internationally with Josh and Elena before: Peru eight years ago, New Zealand two years later. We travel well together. On the first trip, Josh had just finished college, Elena was an exchange student in South America. Little changed for the second trip. In both cases, Vida and I did the logistics and planning. Flights, hotels, activities, excursions. The kids were consulted and generally tolerated the visits to more archaeological sites than they would have wished. On an occasional evening, they would slip away without us to meet friends at a bar or to make new ones. Dad did the driving and paid all the charges for hotels, dinners, and museum entrances. We had our disagreements but a minimum of tears, recriminations, or family meltdowns.
There was a first warning on our 2011 Peru trip. With all four birthdays occurring in a span of 6 weeks, we decided to make this our joint birthday present to each other. Two were significant—Elena reached 21 and I hit 60. The birthday celebration was to be held atop Machu Picchu on a date sandwiched in between our respective dates. We brought funny little hats and a cake substitute in our day packs for the party.
The Allens climbed Machu Picchu on a day where the mountaintop was swallowed by the clouds gushing water into every crevice.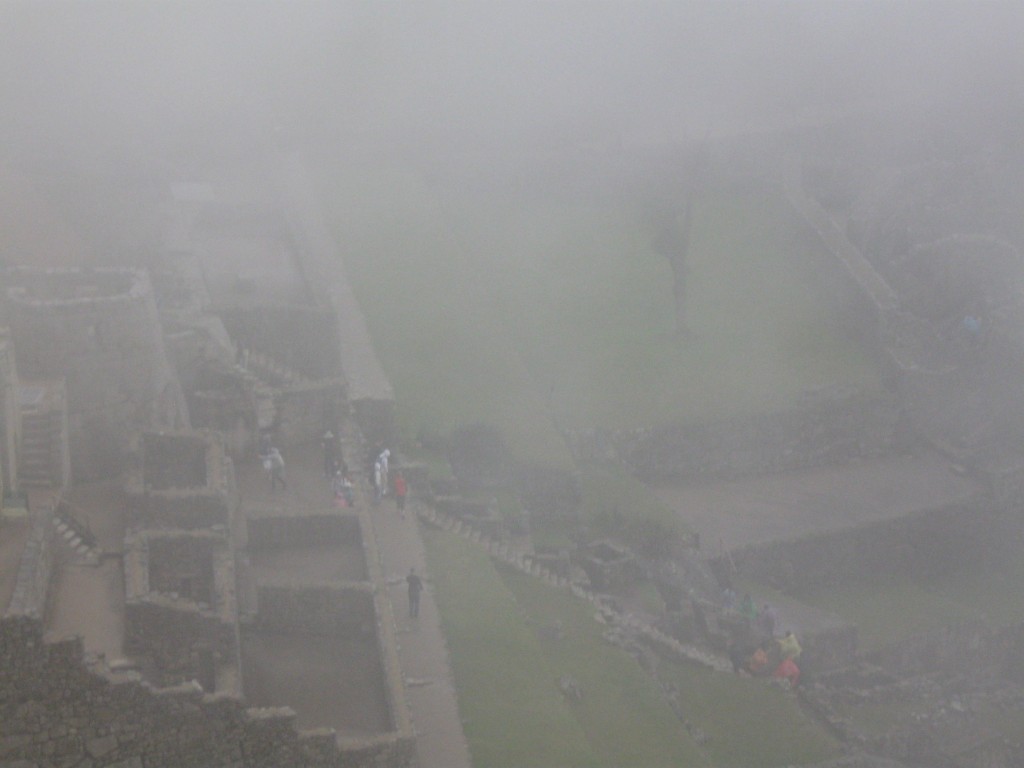 We never had the option of taking that panoramic postcard photo so familiar to everyone. At times we could see the faint outline of terraces, monuments, llamas grazing on the grass, the hulking Wayna Picchu in the background. At other times we were surrounded by soup-like fog. The rain was constant. We were drenched and uncomfortable. Add to that the hundreds of stairs to climb from monument to monument, and it was a struggle to appreciate that we were at MACHU PICCHU!! The party was celebratory in name only. Halfway through the day, Josh observed me struggling and asked in a tentative fashion, "Dad, do you want me to carry your pack for you?" I would never have considered it on previous trips, with or without my husky son along. But that day, I solemnly nodded my agreement and handed it over before tackling the next uneven stone staircase to the next Inka temple. It helped, but it also rankled.
In hindsight, I decided that this was a false moment, not the first warning of impending age. I blamed my bad knee for my struggles, one that was magically fixed by knee replacement surgery the following year. I needed no help with day packs or anything else when we went to New Zealand two years later. I did, though, decline the kids' offer to join them bungie jumping off the Neves Bridge, one of the longest drops in the world. That decision I simply attributed to good sense.
The decade is now in its waning few days, and it's time for another celebration: this time Vida is turning 70. With complex summer plans in place for all of us, she asks that her birthday present be a family vacation to Coast Rica at Christmas. The kids do all the planning. Vida and I show up at the airport with a suitcase filled with short sleeves, sandals, and bathing suits, having been texted our boarding passes the night before. That in itself was a surprise, that I was not needed to do any advance work despite my many decades of travel planning.
Arriving in San Jose, we head for the car rental. Josh and Elena become the designated drivers. I was not needed, or even consulted. Elena was behind the wheel of our SUV most of the time while Josh navigated her through unmarked Costa Rican crossroads. Both performed their jobs superbly; I began to realize I could have served neither role as well. Instead, I sat in the back seat and watched the forests fly by the window. Being a mere passenger was a distant cry from my central role in previous family trips.
The Airbnb researched by Elena was
well placed and just right for our needs. The kids went into town to fill the refrigerator. The choices of foods theirs as well. Elena was the master chef and the meals we ate in the apartment were of her choosing. When we went out, it was their quick scanning of their phones that determined our dinner spot, not my pre-trip research as in previous years. They did all the negotiating with local guides, waiters, and shop keepers in flawless Spanish. Not a Spanish speaker, I nibbled on only the corners of these conversations. When the dinner bill came, the kids pulled out a credit card to pay.
Ziplining over the forest was on the agenda, and both of them checked in with me at each stop to ensure "I was ok." Two days later, we took a kayak trip through a mangrove forest, and Josh paddled slowly behind Vida's and my double craft, ensuring that we wouldn't tip over and get swallowed by a submerged crocodile. Occasionally, there was a suggestion called out from behind us as to how to tackle a narrow passage through the mangroves. I should have been appreciative, but most of what I felt was that I was being watched, cared for. When we finally beached the kayaks on the steep boat launch dock, his strong hand was there to help me up out of the boat. When Elen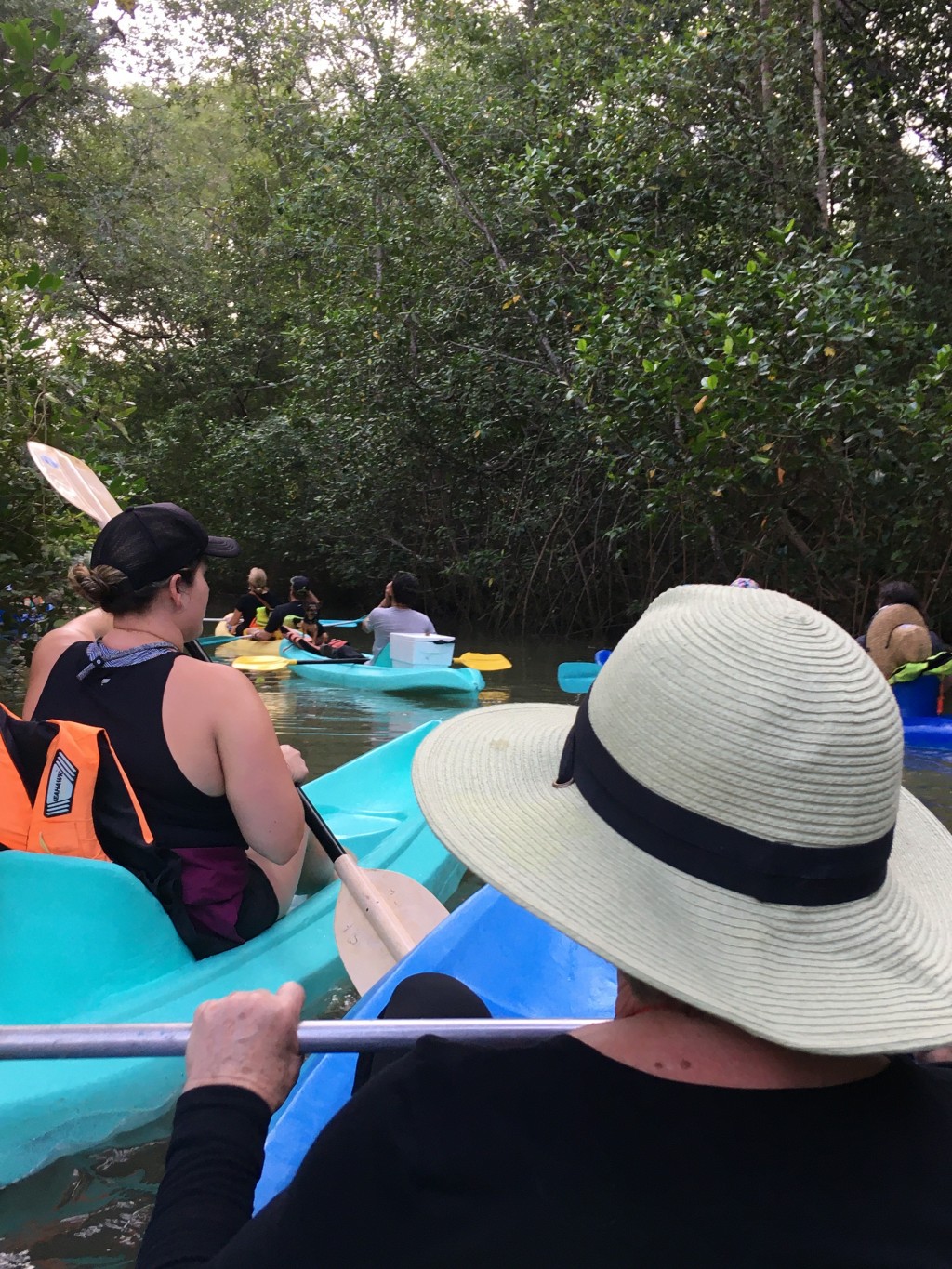 a and Emily chose to sign up for a waterfall hike the next day, one that included repelling up and down cliffs to reach each pool, I know they were glad that I decided to skip that adventure.
A spill of wine on my shirt at dinner, a stumble over a rocky forest path, or spinning backward while zipping 200 feet above the forest was cause for a good natured comment or chuckle by the 30-somethings. After all, I'm an old guy. These fumbles are expected. Even when a pair of 30-somethings in our zipline group remarked, "Our parents would never try anything like this," it didn't change that new dynamic.
As of this trip, the roles have reversed, and our kids are the adults and we are the old people to be cared for. The first warning has come.
© Scholarly Roadside Service
Back to Scholarly Roadkill Blog
---